How the mines failed the communities in the sekhukhune region of south africa
BACKGROUND
Over the last two years, a team from Sekhukhune Combined Mining Affected Communities, the Centre for Applied Legal Studies and Amnesty International South Africa conducted research into the social and labour plans of three mines and the experiences of communities in the Sekhukhune area. These mines include: Twickenham Platinum Mine owned by Anglo American Platinum Limited (Anglo Platinum), Marula Mine owned by Impala Platinum Holdings Limited (Implats) and Sefateng Chrome Mine. 
The Sekhukhune region in the Limpopo province is about 340 km north-east of Johannesburg. It is located at the edge of the Bushveld Complex, an area rich in platinum and other platinum group metals. Mining has joined commercial agriculture as an increasingly dominant source of direct employment in the province. Yet even with the arrival of mining operations around 2002 and the potential employment opportunities for the region this brings, unemployment is currently at 47% and is projected to reach 52% by 2025. In contrast, mining is the biggest contributor to the economy of the district and it is forecasted to grow faster at an average of 5.6% annually. Whilst there are many factors to consider around job creation, growth in the mining sector is not translating into an increase in employment in the region, nor meaningful improvement in communities. 
Further, South Africa's mining industry is built on a history of inequality and exploitation. Mining-affected communities continue to bear the greatest burdens of mining – from losing farmland to facing environmental harm – often without seeing the benefits. One of the key mechanisms designed to address this is the social and labour plan (SLP) system. An SLP is one of the legal documents required for a company to apply for a mining right which sets out how the mine intends to offset some of the impacts of mining and share some of the benefits. Projects could include, upgrading local roads, building clinics, or providing access to water and sanitation in the area.
However, a growing body of research has shown that the SLP system has struggled to achieve its aims. Plans are often poorly designed without the input of the communities they are intended to serve, and many mines fail to comply with their commitments – all while the state regulator is unwilling or unable to hold them accountable for these failures. This is particularly significant in rural areas which remain mineral-rich but under-resourced.
Therefore, our work examines the compliance with SLPs of the three mining companies in the area and how the failures related to the monitoring and implementation have resulted in the violation of human rights including the right to access healthcare, water, education and livelihoods. 
Our work also examines failures by the Department of Mineral Resources and Energy, as the state regulating body of mining rights and the enforcement of SLPs, to adequately regulate the planning, licensing, compliance monitoring and enforcement of the SLPs. 
The extractives industry in SA has a dark history characterised by discrimination and exploitation. @DMRE_ZA must ensure the legally binding social and labour plans are implemented & effectively & transparently regulated to offset the challenges created by mining in communities
The findings of the report show that, to varying extents, the mines are not complying with their legally binding social and labour plan obligations. For example:
-Twickenham Platinum Mine: acknowledged in an annual compliance report that the mine had failed to complete a project related to water and sanitation in schools before its deadline. This project remains unfinished more than three years later. When pressed for answers about this lack of compliance, mine representatives acknowledged the delays in implementation but blamed problems with procurement. 
-Marula Platinum Mine: has completed projects on electrification and water supply and reticulation. The company also claimed in one of its most recent reports that the mine had completed a project to build or rehabilitate a nearby road. However, site visits by the research team and interviews with community members could not confirm this. 
-Sefateng Chrome Mine: was only in partial compliance with its water support and school support projects. Information from the Department of Mineral Resources and Energy indicates that the mine has not been submitting annual compliance reports. This would suggest that the company is not complying with its reporting duties in terms of national mining legislation. It is important to note that the mine representatives have denied this, noting that they have been submitting reports regularly. 
-Department of Mineral Resouces and Energy: failed to adequately regulate mines and carry out its oversight role to ensure the implementation of social and labour plans in the region. We found that the DMRE had a poor record management system and hindered access to information and that the DMRE was unable to enforce compliance with SLP reporting obligations resulting in communities feeling abandoned.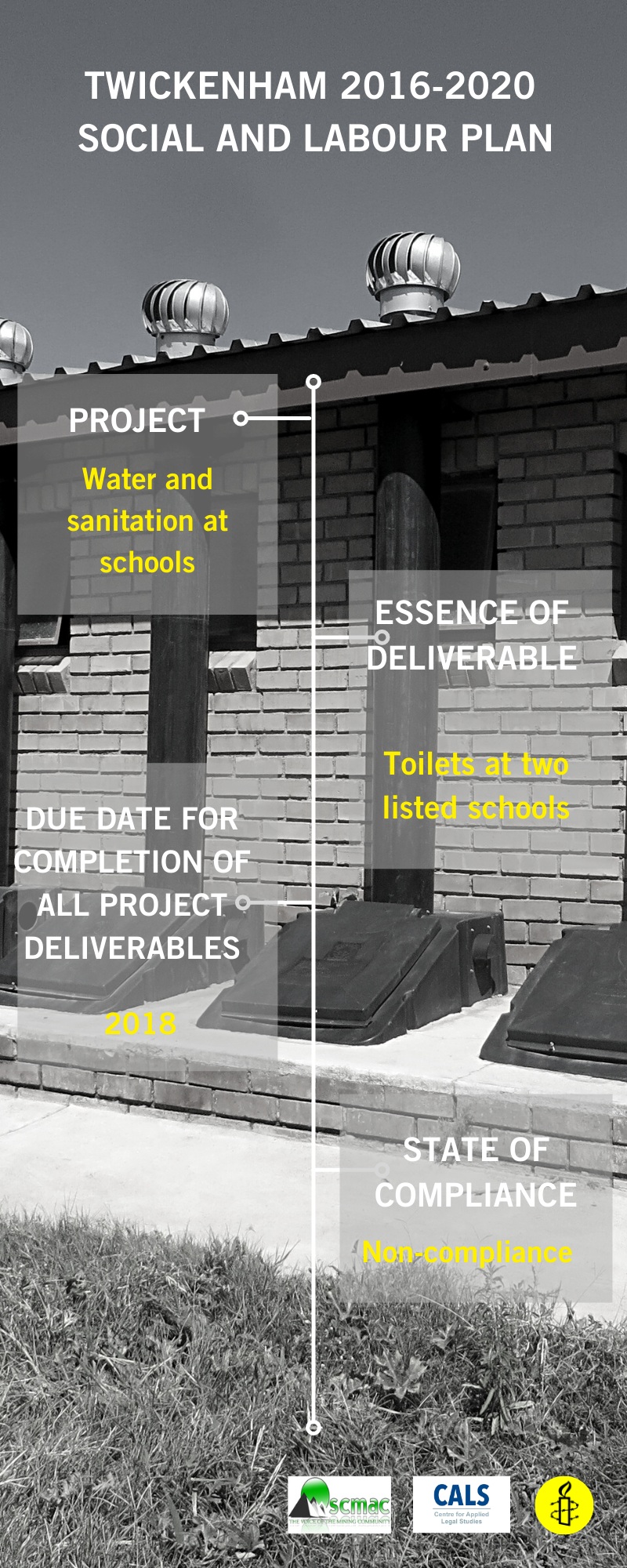 We call on @AngloAmerican, @Implats and Sefateng Mines to submit all outstanding annual compliance reports to the @DMRE_ZA for each generation of SLPs #UnearthingTheTruth
Part 2: Lived experiences of community members
Despite the mineral wealth running through the Sekhukhune region, communities in immediate proximity to mines experience the impact on their lived environment commonly associated with mining but see little to no tangible development. Across different mining regions there are significant commonalities in community members' experiences of mining:
Mining companies, senior management, and often senior traditional leaders derive wealth from the minerals below the ground, while most communities directly affected, live in poverty and suffer a multitude of environmental, socio-economic and cultural injustices. 
Mining has caused disruptions to the livelihoods, way of life and identities of communities that are inextricably linked to the land. Some of the more severe impacts are through the removal of gravesites (culturally important for the performance of rituals and connection with ancestors), the relocation from their ancestral land and agricultural lands, and the pervasive impacts of livestock. It is important to note that livestock and land are a vital source of wealth income and food security in African rural economies.
Inhabitants of several villages in the Sekhukhune region suffered livestock loss due to mining-related impacts. This includes soil and water pollution (which some community members stated caused declining livestock fertility), and loss of previous sources of water and grazing land, both of which have exposed livestock to dangers such as attacks by wild animals as they feed near mountains. 
The overall sentiment is that mining companies have done very little to remedy the effects of mining on the livelihoods of communities. And where there are initiatives, these frequently stall without adequate explanation. 
Disclaimer: While the scope of 'Unearthing the truth: How mines failed the Sekhukhune region of South Africa' did not allow for definitive causal conclusions on the human rights impact of mining on surrounding communities, they nevertheless merit further investigation. 
"Now there's no other way of making a living because those farms are now polluted with mining and waste from the mines, which was dumped on their farms and there's nothing we can do"
.@DMRE_ZA must review and update the social and labour plan framework for mining companies, in consultation with communities to ensure there are sanctions for mining companies that fail to comply with their SLP commitment #UnearthingTheTruth
lack of meaningful consultation and full consent
Community members in the region report that there is a lack of meaningful consultation by the mining companies in key decisions, including the construction of social labour plans, and when there are departures from the original mining plan that has an impact on the community. Community consultations are often viewed as tick-box exercises, with little notice given ahead of time, and companies frequently engage traditional leadership who do not always represent the true needs of the community, as well as co-opted community representatives who also no longer serve and represent the needs of the community. In certain instances community members signed what they believed to be attendance registers, only to find out they were granting consent for the plans to be developed by the mining companies. The lack of obtaining full and informed consent is in direct contravention of Article 2 of the Interim Protection of Informal Land Rights.
Of further concern is the resettlement of community members to make way for mining, which represents a still endemic continuation of colonial dispossession in the mining sector. This also severs the affiliation to the land, causes loss of livelihoods and frequently, the breaking of communal relations.
We're trying to negotiate with the mines and they are not willing to listen to the plight of those families"
.@DMRE_ZA must establish an independent, impartial and thorough grievance mechanism for mining-affected communities #UnearthingTheTruth
lack of access to adequate water sources
Community members have stated that existing difficulties with accessing water (such as through droughts) are intensified by the activities of mines around them. Some are even more vulnerable, and less able to mitigate those impacts because they have been relocated by mining companies to places with less water for them and their livestock or because the available water is polluted. 
In most places, individuals access a part of their water requirements from shared boreholes that were previously drilled by the municipality or mine that is connected to tanks or dams. However, community members are largely findings these communal boreholes inadequate. In some cases, the supply of water diminished from when the holes were first drilled, and in others the pumps or holes have not been maintained, leaving communities without water for a week or more. 
Those who cannot afford to buy water, walk long distances to fetch water placing them in danger of encountering snakes and other dangerous animals. And due to cultural norms, it is often women and children who are expected to fetch water, placing them at further risk of sexual assault and rape. 
"We are afraid of men actually … as women, we aren't safe in everything"
Likely Contamination of water
Where communities are very close to mines, out of desperation, they sometimes tap into the mines' 'raw water' pipes that carry water meant for mining operations and it is not suitable for human consumption. Once this water has been used in the mine, community members respond that it is discharged back into streams.
Community members have noted that some cattle that drank from water discharged from the mines either died or had miscarriages. When people collect water from streams and rivers, especially from sources that must be shared with livestock, they get sick with stomach complaints. It is estimated that around 15 women in their area suffered miscarriages since they started drinking from these sources, and stillbirths and infant mortality rates have increased. 
While we cannot make definitive causal conclusions in this regard, nitrate and nitrite pollution is associated with mining, and there is some exploration in scientific literature regarding a possible link between nitrates in drinking water and negative reproductive effects. While not yet proven, the seriousness of this possible impact merits further research. 
Further, there are many barriers faced by women in communities and researchers seeking to further investigate these possible links, including access to information. An 'access to information request' to the Department of Health by our research team to receive statistics was denied on the grounds that it was for a research project. This refusal and lack of justifiable grounds as outlined by PAIA is in direct contravention of the Act.
Second, the barriers to accessing healthcare and specialised medical expertise identified above mean that it is near impossible for women to investigate and demonstrate the formal causal validity of these experiences. 
This contamination, in addition to the lack of access to safe and adequate water, is in violation of ICESCR, specifically General Comment 15 on the right to water, which further expands on Articles 11 and 12 providing for an adequate standard of living and health. 
The failure of @DMRE_ZA to ensure the compliance of social and labour plans in the Sekhukhune region of SA has resulted in the violation of human rights, including the rights to access healthcare, safe water and quality education #UnearthingTheTruth
limited access to healthcare
Some community members in the region stated that they did not have a clear picture of the health impacts of mining, in part due to the limited access to healthcare. Challenges described by community members included:
The distance needed to travel to clinics is approximately five to 10 kilometres away from villages;
The local clinics, mobile clinics and home-based care offer limited services;
There is a consistent shortage of medication. 
The mining communities also do not have access to general health testing and screening to determine whether ill-health is a consequence of mining activities. The general pattern based on our research suggests that mining companies confine testing to their employees and not communities directly exposed to the different forms of pollution. 
Further, some communities members state that the lengthy time it takes to reach healthcare facilities is at least partly due to the poor state of roads. They explained how companies' vehicles contributed towards the poor state of the roads, and road repair projects outlined in their Social and Labour Plans did not adequately address this challenge. 
Community members often have to walk if they cannot afford to take a taxi, or if taxis do not pass through the village due to poor roads. While the cost of taxis varies depending on village and clinic, one member noted that it costs ZAR68 (US$4.50) for a round trip to the nearest hospital. Once there, they wait for four to five hours to be seen by a Doctor. They are then given a prescription to buy medication from a hospital or pharmacy, as clinics often only stock painkillers. A shortage of medication is often cited, yet no reasons are given for this. This results in additional time and transportation costs. While mobile clinics pass through villages once a month, they, too, are only stocked with painkillers and contraceptives. 
The failure to provide adequate healthcare services to communities goes against the state obligation under the ICESCR Article 12 regarding the right to create conditions to ensure medical services are available in times of sickness. 
"For some people who have an emergency sickness, we are failing to rush them to those places. As a result of roads which are very damaged by rains and not maintainable by the mining companies and municipalities too". 
gendered impacts of mining
Globally, there is an increasing body of scholarship that indicates that the extractives industry has an unequal impact on women. 
Women are more likely to be impacted by large-scale mining deals because of the systemic discrimination they face in relation to their access to, ownership of, and control over land. The arrival of a transient, largely male workforce also increases the demand for transactional sex, risk of sexual violence and infection rates of sexually transmitted diseases. 
This holds true for communities in the Sekhukhune region where gender inequality across communities is pervasive and affects various facets of women's lives. These include: 
Being actively exploited in the job market;
Being burdened with unpaid care work;
Being faced with barriers in accessing health care for themselves and their children;
Being faced with daily threats to their safety and bodily integrity.
Women in the Sekhukhune region also expressed that they are excluded from customary consultative and decision-making processes, leaving them feeling disempowered and without a voice. 
These experiences violate several rights enshrined in the Convention on the Elimination of All Forms of Discrimination (CEDAW), specifically: 
Article 5: Requiring states to take action to address social and cultural norms, including cultural practices that subjugate women;
Article 6: Requiring states to ensure that the exploitation of women is suppressed;
Article 11: Which provides for all persons to have the same employment opportunities and not be discriminated against based on maternity status;
Article 12: Regarding the right to access appropriate and necessary health care services, including family planning;
Article 14: Requiring states to take into account and develop measures to address unpaid care work.
"Ever since [the] mine stopped blasting and operation, those experiences are gone. We no longer experience those situations. So the dust from their blasting was causing miscarriage"
.@DMRE_ZA must review the social and labour plan framework for mining companies, in consultation with communities & ensure the inclusion of women in decision-making processes #UnearthingTheTruth
Lack of accountability by mining companies
One of the overarching trends that emerged through our research, was a sense that mining companies operating in the Sekhukhune enjoyed complete impunity for the impacts on the environment, land and livelihoods. 
Community members described one instance in which explosive material not removed by a mining company led to injuries suffered by young children playing in the area. They stated that to date no one has been held criminally or civilly responsible, nor has adequate compensation been provided. 
"[The mine] made a commitment to take care of injured kids, pay school fees and medical bills and if grown up they'd take to mines to work there and to help families. Up until today there's nothing that's happened. Even DMR made same promise and [has] done nothing up until today".
We call on @AngloAmerican, @Implats and Sefateng Mine to publish all annual compliance reports made to the @DMRE_ZA on social labour plans since the start of mining in the Sekhukhune region #UnearthingTheTruth
Co-option of community representation
A central enabler of the lack of accountability experienced by communities is what appears to be manipulation or co-option of whichever structure represents communities. Community members are not convinced that traditional authorities, trustees (of community trusts), or elected community representatives on community forums are properly taking up their issues. They further spoke of some representatives improperly benefiting from mining and using proximity to contractual and employment processes to create a web of patronage. 
These experiences are not unique to these communities. The South African Human Rights Commission has found a number of challenges with community representative forums in mining-impacted areas. These include a perception amongst communities that mining companies establish forums and elect representatives to serve their own interests. Divisions and a multiplicity of forums were observed as a pervasive issue, as were certain representatives "acting as gatekeepers for opportunities meant to benefit communities more broadly". 
"[The mine] made a commitment to take care of injured kids, pay school fees and medical bills and if grown up they'd take to mines to work there and to help families. Up until today there's nothing that's happened. Even DMR made same promise and [has] done nothing up until today".