It is hard to think that we are only four months into the year. So much has been happening, not only here in South Africa, but in the world as well. 
We started this year with the release of the first part of the State Capture commission report, followed by another two volumes, which has once again highlighted how corruption undermines democracy and the rule of law thereby infringing on human rights. In South Africa, access to basic services is largely crippled by the mismanagement of public funds and a lack of prioritisation by the government. The state has a duty to protect the human rights of all who live in the country, but it is clear from Justice Zondo's report that the state has failed to do this.
This is not the only front where the government is failing. In the past four months we have once again seen a spate of xenophobic attacks and unlawful operations by vigilante groups which go around demanding  that migrants close their businesses and provide proof that they are in the country legally. Amnesty International has previously highlighted how past acts of violence, including the killing of migrants during xenophobic violence have gone unpunished, leading to an entrenched culture of impunity. You can read more about our work on this problem in this issue of Lesedi. We refuse to keep quiet when anyone's rights are being violated, whether they are South African citizens or migrants, refugees and asylum seekers. 
This past quarter we have also been working on mining-affected communities as we launched a really important research report on how mines failed communities in the Sekhukhune region of South Africa. This research was undertaken by a team from Sekhukhune Combined Mining-Affected Communities, the Centre for Applied Legal Studies and Amnesty International South Africa. AISA's researcher, Marike Keller, who was part of the project team, provides more insights into this research in this edition of Lesedi. 
We also still have our eye on the Department of Basic Education, as many schools in the country continue to be subjected to inadequate ablution and sanitation. In February, AISA launched its pit toilet tracker. We are pushing the government to stick to its commitment of eradicating these unsafe sanitation facilities in schools sooner rather than later, so that every child in this country has access to adequate and safe schooling. Without this, there is no hope for future generations. 
The common thread in all these issues, is the failure by the government to put human rights at the forefront of serving South Africa. There is a lack of accountability which cannot continue unchallenged. 
Many of these issues and human rights abuses in South Africa are tackled in Amnesty International's Annual Report 2021/22, which was launched in Johannesburg in March. In this issue of Lesedi we give you a breakdown of the state of human rights in South Africa. 
Amnesty International's Secretary General, Agnès Callamard, was in South Africa for the launch of the annual report – her first visit to the country since her appointment as head of the organisation last year.  
The Annual report found that 2021 should have been a year of healing and recuperation, but instead, it became an incubator for deeper inequality and greater instability, a legacy caustic for years to come. This is why global solidarity is so important. As Callamard said, it is only through global solidarity and people power that we will be able to move around the abyss the world is heading towards, rather than straight into it. 
Just as so many showed global solidarity with South Africa during the dark days of apartheid, which played a role in bringing the oppressive system down, we now need to show solidarity with the people of Palestine, who are subjected to a system of apartheid perpetrated by the Israeli government; with the people of Ukraine experiencing relentless, indiscriminate attacks from Russian forces; and with our fellow Africans in Tigray, Ethiopia, who face ethnic cleansing and crimes against humanity. You will read more about these issues in this issue of Lesedi. 
In the words of  the Dalai Lama : "Our world and our lives have become increasingly interdependent, so when our neighbour is harmed, it affects us too. Therefore we have to abandon outdated notions of 'them' and 'us' and think of our world much more in terms of a great 'US', a greater human family."
Let us support each other in the fight to make the world a better place, now and for future generations. 
Aluta Continua
Shenilla Mohamed
south africa's human rights track record not getting better
By Genevieve Quintal, Amnesty International South Africa Media & Communications Officer
Amnesty International recently launched its 2021/22 Annual Report  which looks at the state of the world's human rights and covers 154 countries. The report was launched by Amnesty International Secretary General Agnès Callamard in Johannesburg on 24 March.
It showed that political leaders and corporate titans colluded to put profit and power ahead of people, betraying promises for a fair recovery from the Covid-19 pandemic. They undercut vaccine successes, deepening the  inequality faced by the marginalised hit hardest by already crumbling health and economic systems. Nowhere was this collusion felt more clearly and cruelly than Africa.
The report also showed that South Africa's human rights track record is not getting any better. 
In 2021, South Africa saw a continuation of old patterns of human rights violations on issues such as gender-based violence, the right to quality education, and the rights to health and life. 
In particular the rights to health and education were severely impacted as a result of low vaccination rates, struggling healthcare facilities and an education system that saw increased school dropouts. 
Right to Education 
The National Income Dynamics Coronavirus Rapid Mobile Survey, a collaboration of over 30 South African researchers from several universities and research organisations, found that up to 500,000 additional children dropped out of school during the pandemic. The drop-out rate reached approximately 750,000 by May 2021, over three times the pre-pandemic number of 230,000. 
Right to Health
Africa holds the lowest vaccination rate in the world, with less than 8% of the continent's population fully vaccinated by the end of 2021. South Africa remained the country worst affected by Covid-19 in Africa, in terms of both reported cases and death. The Health Sector Anti-Corruption Forum and the Special Investigating Unit took on numerous cases of alleged corruption in provincial health departments. Former health minister Zweli Mkhize resigned in August after being implicated in the irregular procurement of a Covid-19 related communication services tender which resulted in the alleged misappropriation of R150 million (over US$10 million). Once again, it is the poor and marginalised who suffer from the lack of delivery of quality healthcare and other essential public services lost to corruption. 
Gender-based violence
Gender-based violence also reached crisis levels. Despite the adoption by the government of the National Strategic Plan (NSP) on Gender-Based Violence and Femicide in 2019 to strengthen its response to the high incidence of gender-based violence, cases of GBV continued to soar. The plan is not being adequately implemented, with the government failing to reach many of the indicators and targets set out in the first year of its implementation. 
Parliament adopted three new bills to strengthen the protection against GBV. These are: Criminal and Related Matters Amendment Bill;  Criminal Law (Sexual Offences and Related Matters) Amendment Bill; and Domestic Violence Amendment Bill. Yet we continued to see horrific cases of GBV.
There were 117 cases of femicide in the first half of the year alone. There were 14,188 reported cases of sexual offences between October and December 2021. Nosicelo Mtebeni was a 23- year-old law student in her final year at Fort Hare University in the Eastern Cape province when she was murdered. Her body was dismembered and placed in a suitcase and in plastic bags. Her boyfriend was sentenced to 25 years in prison for her murder. Yet most victims or their families do not receive justice. 
Right to life and security
During the July unrest, we also saw the emergence of new threats to the public order that endanger the future of human rights. These violations are driven by high levels of inequality, corruption and impunity. Violent looting and destruction of property erupted in parts of Gauteng and KZN provinces following the imprisonment of Jacob Zuma. The unrest spread to residential areas and in the absence of a clear police presence, many communities turned to vigilantism. The South African National Defence Force was deployed to support police on the ground. At least 360 people died during the week of unrest. Some died in stampedes and others from live ammunition or rubber bullets shot at close range.
Refugees and Migrants' Rights
Xenophobia also continues to be a consistent problem in South Africa and migrants, asylum seekers and refugees have been used as scapegoats for many of the problems, such as crime and unemployment.The ongoing and escalating attacks against these vulnerable people is a direct consequence of years of impunity and failures in the criminal justice system that have left this group exposed and unprotected. And South African authorities cannot say they did not see this rampant violence coming.
There were over 153,000 outstanding asylum applications. The government and UNHCR signed a US$9.6 million agreement in March 2021 to clear the backlog and revamp the asylum management system by 2024.
In May 2021, the Western Cape High Court ruled that the Cape Town Refugee Reception Office (RRO), which had been closed in 2012, be reopened. This followed the Department of Home Affairs' failure to comply with a 2017 court order issued by the Supreme Court of Appeals to reopen the RRO by March 2018. Since its closure, asylum seekers living in Cape Town had to travel to Durban, Musina or Pretoria every few months (1,455km, 1,633km and 1,923km, respectively) to renew their permits.
While South Africa was particularly hard hit, it is sadly not unique. Many countries all over the world experienced similar challenges. This is why Amnesty International launched its report from South Africa, to highlight that the world does not operate in a vacuum. Global issues and the decisions made on the global stage, whether in relation to the pandemic or conflicts, have far reaching consequences for people living in countries all over the world. 
Read the full Annual Report  and find the section on South Africa on page 332
This year Amnesty International's Annual Report was launched from Johannesburg, South Africa. 
Watch Amnesty secretray general Agnès Callamard, Netsanet Belay Global Research and Advocacy Director and Shenilla Mohamed Amnesty International South Africa Executive Director address the media on the state of the world's human rights. 
Seeking justice for mining-affected communities in Limpopo
By Marike Keller, Researcher at Amnesty International South Africa
On 22 February, Amnesty International South Africa, in partnership with the Centre for Applied Legal Studies and the Sekhukhune Combined Mining-Affected Communities, released a joint research report on the impacts of mining on communities in the Sekhukhune region of the Limpopo province. The research looked at three mining companies' compliance with their Social and Labour Plans (SLPs) – legally binding mechanisms aimed at ensuring that companies offset the negative environmental and social impacts their operations have in the communities in which they operate. It further reveals the extent to which the failure to abide by SLP commitments, coupled with a lack of state oversight, leaves communities feeling disenfranchised and unable to fully realise their human rights, such as to education, access to healthcare, livelihoods and water. 
The launch was a successful hybrid event, with 100 participants joining on Zoom and 44 participants joining in-person from Sekhukhune. Participants raised challenging and interesting questions on how appropriate and useful the SLP system is, and if this is a system we should work towards strengthening or rather abandon and come up with something new. 
On the day of the launch, we also reached out to various government departments, including the Department of Mineral Resources and Energy (DMRE) the Department of Water and Sanitation (DWS), the Department of Health (DOH), and the Portfolio Committee on Mineral Resources and Energy, to share our report with them, findings pertaining to them, and recommendations, and requested further engagement to work towards solutions. At the time of publishing, only the DOH had responded, indicating that they would be following up on the concerns we had raised. The lack of response by the department responsible for the monitoring and oversight of SLPs, namely the DMRE, is indicative of the findings we made against them. We will continue to follow up with all departments and ensure the recommendations made are implemented. 
As outlined in the report, we have engaged with the mining companies that were investigated to varying degrees throughout the research process. Following the launch, we reached out to them again, seeking further engagement on the recommendations made. Two of the companies have responded with a willingness to engage, and we are in the process of arranging these meetings. As with the government departments, we will continuously work towards opening and maintaining channels of communication with the companies, with the aim of engaging them on the findings and recommendations made in the report. 
To support our advocacy work, we launched a social media campaign, highlighting key aspects of the report. Follow us on Facebook and Twitter and share our calls to the companies and DMRE demanding action and accountability. 
We are also in the process of amplifying the voices of the community by sharing their voices on their lived experiences and the challenges they are faced with. Our story page will continuously be updated with new content, so watch this space.
This is only the beginning. Together with affected communities and our partners, we will continue our efforts to hold mining companies and the state accountable to their legal and human rights obligations, towards ensuring the development of the communities in which companies operate. 
.@DMRE_ZA must review and update the social and labour plan framework for mining companies, in consultation with communities to ensure there are sanctions for mining companies that fail to comply with their SLP commitment #UnearthingTheTruth
Pit toilets: A stain on our basic education
By Sibusiso Khasa, Campaigner at Amnesty International South Africa
Over a million pupils and teachers still use pit toilets in schools across South Africa and there seems to be no end in sight despite several promises from the Department of Basic Education (DBE). The department has now committed to eradicate pit toilets within the 2022/2023 financial year, however history tells us that this might not happen. 
In 2020 and 2021 Amnesty International South Africa released two reports on the state of Basic Education in the country. Both reports, titled South Africa: Failing to learn the lessons? The impact of COVID-19 on a broken and unequal education system and Broken and Unequal: The state of education in South Africa highlighted stark inequalities in the education system. They exposed how the infrastructure of many schools that serve poorer communities do not comply with government's own regulations relating to the "Minimum Norms and Standards" for educational facilities, and show how the government does not comply with both South Africa's constitutional and international human rights obligations with respect to education.
The regulations, which were published in 2013,state that all schools should have been provided with proper sanitation by 29 November 2016, and all infrastructure should have been brought into compliance with the Norms and Standards by 29 November 2020. However, instead of meeting these targets, the department has repeatedly revised its deadlines. It recently mentioned that it planned to eradicate pit toilets in all identified schools by March 2022, only to tell the Polokwane High Court last year that in provinces like Limpopo this will be achieved by 2030.
Compounding the issue is the lack of reliable data. The DBE's annual report, which was published late last year, shows that South Africa still has 5,167 schools that do not have proper ablution facilities and still use basic pit toilets. However, the Minister of Basic Education, Angie Motshekga, in January this year said the country remains "with 1,423 schools, where basic pit toilets need to be replaced. All of these are scheduled for completion in 2022/23". Yet the DBE's 2022/2023 annual performance plan, which was released in March, states that the department plans on providing 450 schools with sanitation facilities this year. So what about the other 973 schools (if we are to believe Motshekga)? Or is it another 4,717 schools (if we are to believe the annual report)?
In February this year, Amnesty International launched the pit toilet tracker. The tracker monitors how many schools in the country are still being subjected to inadequate ablution and sanitation. The tracker relies on data provided by the Department of Basic Education in the 2020/21 annual report and the report that was published by the South African Human Rights Commision (SAHRC) in September 2021. The SAHRC relied on information provided by provincial education departments. 
It is clear we need to continue putting pressure on the DBE to deal with basic pit toilets and ensure that all children are able to attend school in a safe and healthy environment. So we  continue to  call on people to sign a petition started in 2020, which  already has more than 20,000 signatures, demanding the DBE eradicate pit toilets in schools across South Africa. Let us make the eradication of pit toilets a reality for all schools in South Africa. 
The use of pit toilets not only violates the right to basic sanitation, and access to quality education but also the right to health, dignity and threatens the right to life."
Demand the Department of Basic Education: 
Immediately provides a clear plan to eradicate pit toilets in 5167 schools across South Africa  
Provides reliable data and regular updates regarding the number of schools with pit toilets across South Africa   
Eradication of all pit toilets in schools by the end of February 2023 
Amnesty International South Africa has been monitoring the increasing cases of vigilantism against migrants, including refugees and asylum seekers, which is a violation of their human rights. 
We have previously highlighted how past acts of violence, including the killing of migrantsduring xenophobic violence, have gone unpunished, leading to an entrenched culture of impunity.
A group calling themselves "Operation Dudula" has been going to different townships and areas around Johannesburg removing migrant shop owners and forcing them to close their businesses, claiming that they are in the country illegally and accusing them of being involved in criminal activity. 
According to News24, police now believe that while the Operation Dudula Movement is gaining momentum in Gauteng, there are signs it is spreading to KwaZulu-Natal and, to a lesser extent, Limpopo and Mpumalanga.
The lack of action taken by the authorities against vigilante groups that go around demanding that migrant shop owners close their doors, has resulted in impunity and a continuation of the violation of human rights.
It is worrying that these groups have been allowed to take the law into their own hands and that authorities have not stepped in to stop the harassment of migrants. This did not only start now, but has been an ongoing problem.
Police must take action against these vigilante groups who are violating people's rights to safety, security, dignity and life, and who are fueling xenophobia.Without action, the message being sent is that it is acceptable for these illegal operations to continue.
High-ranking public officials and political leaders are also adding fuel to the fire with their anti-migrant comments. 
Amnesty International South Africa has repeatedlycalled on them to stop blaming the country's high unemployment problem and poor economic status on migrants as this has the potential to re-ignite xenophobia in the country.
It is easy to blame migrants for the country's high unemployment problems, but the fact of the matter is that an economy like South Africa cannot rely on local skills alone to grow and create jobs. Evidence shows that some of the biggest and industrialised economies around the world have grown because they have absorbed the workforce and skills of people from other countries.
Blaming migrants for the country's unemployment problem will only fan the xenophobic flames against this vulnerable group in the country, because they are always used as scapegoats for various problems facing the country. High-ranking public officials, politicians and community leaders must resist the urge to blame migrants for the high unemployment problem facing the country. Instead, they must caution against re-igniting xenophobia and must rather seek to unite people instead of dividing them. 
Amnesty International South Africa Executive Director, Shenilla Mohamed on 23 March 2022, took part in a ​​panel discussion on refugees, asylum seekers and migrants at the launch of 'Homeland' – A Song for Refugees at the Nelson Mandela Foundation.
She was joined on the panel by Dr Emmanuel Taban, one of South Africa's top pulmonologists, who was once a refugee himself and has written a book about his life; Aurelie Kalenga, co-founder and co-director of Grace Beyond Borders, an organisation that helps immigrants with food relief; Abraham Serote, Director: Social Cohesion at the Department of Sports, Art, and Culture; and Neill Solomon, South African composer, musician, producer, singer, and songwriter, who composed the Homeland song. 
The song 'Homeland' was composed by Neill Solomon and performed by Pops Mohamed at the Refugee Concert in 2020, hosted by the Turquoise Harmony Institute (THI). 
THI, the advisory committee of the refugee concert and Neill Solomon thought arranging the song and performing it with an orchestra and other renowned musicians would be a unique opportunity to create and increase awareness about the plight of forcibly displaced people in Africa and other parts of the world.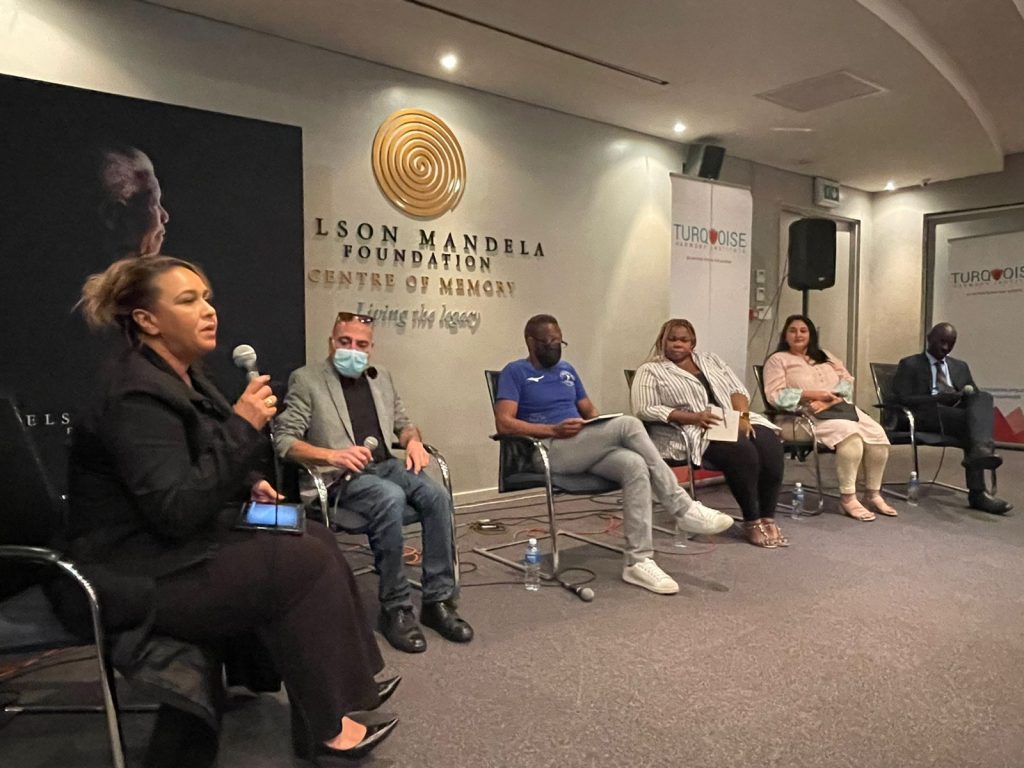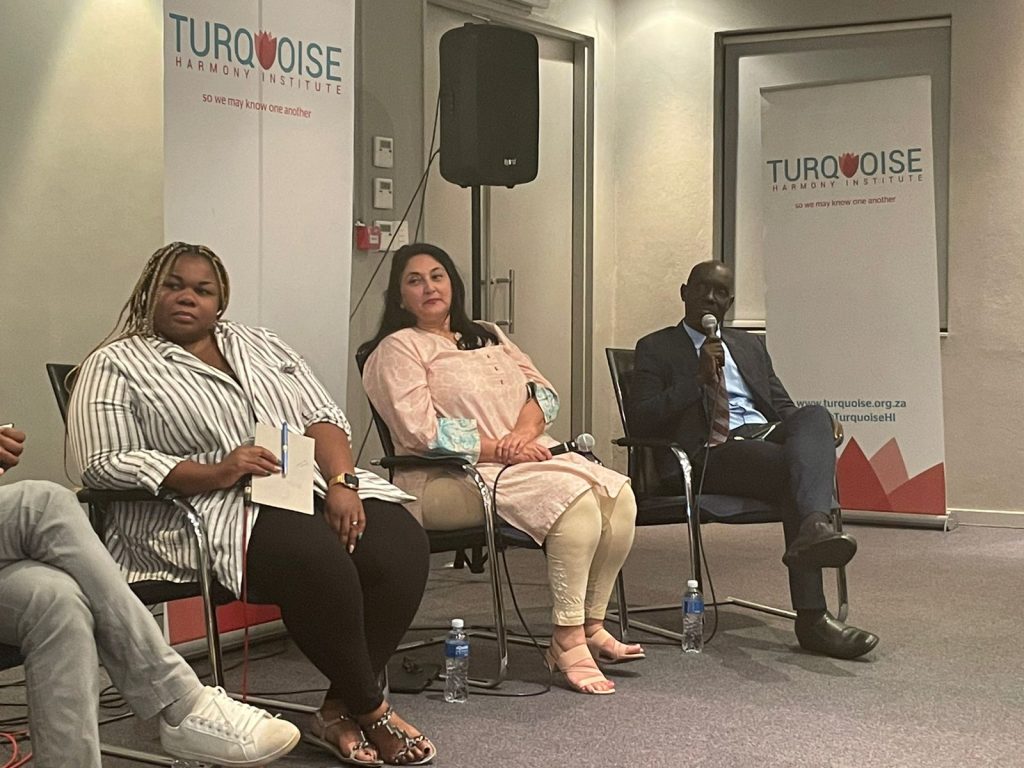 By Dorothy Rowland, Amnesty International South Africa Marketing Intern
"If a society's respect for the basic humanity of its people can best be measured by its treatment of the most vulnerable in its midst, then the treatment of suspected illegal immigrants … offers a disturbing testament to the great distance South Africa must still travel to build a national culture of human rights". 
This statement, made by the South African Human Rights commission in 1999, still echoes a tragic reality for present day migrant, refugees, and asylum seekers rights. The current migrant debate is not new to South Africa— isolated violence against migrants, asylum seekers and refugees has been documented since the late-1990s. 
Despite the fact that South Africa has a progressive refugee law and policy framework, that includes freedom of movement, the right to work, and access to basic social services, the Department of Home Affairs has failed to protect these rights. The department currently sits with an asylum-seeker backlog of over 153,000 people awaiting final decision and some have been waiting for over a decade. The failure to timely process applications and issue permits leads to migrants being left with an 'illegal' status, through no fault of their own, and an inability to access their rights. This also leaves them with no protection and opens them up to harassment and violence.
Authorities have also contributed to the growing violence against foreign nationals. Their inability to hold perpetrators of xenophobic attacks accountable, violates migrant's right to safety and dignity. It also disrupts social cohesion by normalising inhumane actions. This kick-starts a domino effect that has trickled down to the next generation. Human Rights Watch gives an account of how violence against foreign nationals has already become a reality for younger children. A grade 10 student at a public school in Cape Town who migrated from Democratic Republic of Congo to South Africa in 2009, was 10 years later elected class monitor. What should have been a celebratory moment turned dark after she was severely beaten by fellow students who believed a non-national was undeserving of such a position. She spent nine days in hospital and had not returned to school as of 2020.
This continuing trend is extremely worrying and it is even more concerning when it starts affecting young children. This cannot be allowed to fester. We as people need to stop  buying into the idea of "us" and "them", but start seeing each other as human beings trying to make it during difficult times. 
 Respecting each other's human rights should be the core of our existence and under no circumstance should we justify violating another's rights. It is only by working together that we will see things improve and together we should stand up to demand that the government and authorities ensure everyone living in South Africa is treated equally, and enjoys the same rights to life, safety and dignity.
SOUTH AFRICA: PRESIDENT RAMAPHOSA MUST ENSURE RECOMMENDATIONS IN THE STATE CAPTURE REPORT ARE IMPLEMENTED
Amnesty International South Africa has called on President Cyril Ramaphosa to ensure that the recommendations made in the State Capture Commission report are implemented and that those responsible for corruption are held accountable.
Read our full response here
SONA: PRESIDENT RAMAPHOSA MUST SHOW THAT HE TAKES ACCOUNTABILITY SERIOUSLY
President Cyril Ramaphosa delivered his State of the Nation Address on 10 February 2022. Ahead of his address Amnesty International told the President that he had to show the country that he took accountability seriously and provide concrete actions to be taken against those who failed to protect human lives during the 2021 July unrest.
Read our full call to the president here
SOUTH AFRICA: QUARTERLY CRIME STATISTICS REVEAL A SHOCKING CONCERN FOR THE RIGHT TO LIFE
The quarterly crime statistics released by Police Minister Bheki Cele on 18 February 2022 reveal a shocking concern for the right to life, including failure to protect people. 
The crime stats show that there was an increase of 8.9% increase in murder between October and December 2021.
Read what we have to say about the crime stats here
Amnesty International South Africa prepared two submissions 
for the Universal Periodic Review (UPR) of South Africa in November 2022.
UNIVERSAL PERIODIC REVIEW – HUMAN RIGHTS DELAYED
The submission evaluates the implementation of recommendations made to South Africa in its previous UPR, including in relation to gender-based violence, sexual and reproductive health, education and business and human rights.
It also assesses the national human rights framework with regard to new laws introduced during the period under review, compliance with Special Procedures, and the resourcing of the South African Human Rights Commission.
Amnesty International South Africa is concerned about the high levels of gender-based violence, restrictions on sexual and reproductive health services, poor standards of school infrastructure, and non-compliance of mining companies with legal obligations.
Read the full submission here. 
UNIVERSAL PERIODIC REVIEW – FREEDOM OF EXPRESSION
This is a joint submission by Amnesty International South Africa, Campaign for Free Expression, Committee to Protect Journalists, Media Monitoring Africa, and the South African National Editors' Forum.
As organisations promoting freedom of expression, this submission focuses on South Africa's compliance with international human rights obligations related to freedom of opinion and expression and on progress made since the last review in 2017.
Read the full submission here.
GLOBAL SOLIDARITY KEY FOR GREATER HUMAN RIGHTS PROTECTION
By Genevieve Quintal, Amnesty International South Africa Media and Communications Officer
Global solidarity is an important part of defending human rights. If we look back at South Africa's dark past of apartheid, global solidarity during the liberation struggle played a crucial role in helping to dismantle the oppressive system.
Just as global solidarity was important then, it is important now. 
Recently, in South Africa, we once again saw the power of global solidarity.Through Amnesty International's global Write for Rights campaign, we were able to get the South African Police Service  to reinvestigate the case of Popi Qwabe and Bongeka Phungula, two young women brutally killed in 2017. Over 341,000 Amnesty supporters across the world signed the petition to demand this. The matter is now with the National Prosecuting Authority, bringing their families one step closer to justice.
Amnesty International's Secretary General Agnès Callamard, during the launch of the Annual Report 2021/22 in Johannesburg on 28 March, spoke about the importance of people power, especially in the face of poor leadership worldwide. 
"We have no choice but… to fight every attempt to silence us. We must build together a more tangible and insistent movement for global solidarity. We must rethink and restructure failing international mechanisms so that they can truly serve peace and stability for people. That is a role for us all – civil society organisations, the media, academics – we cannot leave that crucial task to governments," Callamard said.
She added that "It is only people's power that gave us forward-looking momentum in 2021. That to me is the saddest but yet the most hopeful lesson of 2021. We could not count on governments, we could not count on the private sectors, private companies, despite their promises, but we could count on the people's power. It is their lead that the government must build [on], not further crush, if public policy and private power is to build a path around the abyss rather than hurtle us further towards it." . 
It is now our time as South Africa to also stand up and show global solidarity with other countries, from Myanmar to Israel/Palestine, where systems of apartheid are being used today to oppress people; to Ethiopia where dozens of people are being murdered and women and girls are being gang raped by Tigrayan forces; to Burkino Faso where the escalation of fighting has caused millions to flee for safety and be subjected to an ongoing humanitarian catastrophe; to the invasion of Ukraine by Russia; to the take over of the Taliban in Afghanistan; and to Yemen and Libya. 
A quote from Martin Niemöller, a German pastor who spoke out against Adolf Hitler during World War Two, captures the importance of global solidarity:
First they came for the socialists, and I did not speak out—because I was not a socialist. Then they came for the trade unionists, and I did not speak out— because I was not a trade unionist. Then they came for the Jews, and I did not speak out—because I was not a Jew. Then they came for me—and there was no one left to speak for me.
Let us stand together, no matter where we are in the world, so that we can build a better world for future generations.
As  Callamard said: "Only human rights leadership can build the bridges, path the ways and resource the journeys away from our utter destruction." 
Following the global launch of Amnesty International's report Israel's Apartheid against Palestinians: Cruel System of Domination and Crime against Humanity on 1 February 2022, Amnesty International South Africa (AISA) started campaigning on the plight of the Palestinian people,  understanding the important role the South Africa can play on the world stage when it comes to the Israel/Palestine issue. 
We were fortunate to have the head of Amnesty's Jerusalem Office and one of the researchers on the report, Saleh Hijazi, in South Africa for two weeks at the end of February to help elevate our advocacy.. 
In the first week after the launch of the report, AISA started engaging its members and activists on the report. 
On 3 February 2022, we hosted an InstaLive discussion with our youth activists on the report, delving into the question "Is what is happening in Israel/OPT apartheid?". This was followed by an online members event, on 9 February, where Hijazi addressed members on the report and engaged with them.  
On 21 February 2022, Hijazi recorded a podcast with New Frame, a not-for-profit, social justice media publication based in Johannesburg, South Africa. The interview took place at the Constitutional Court.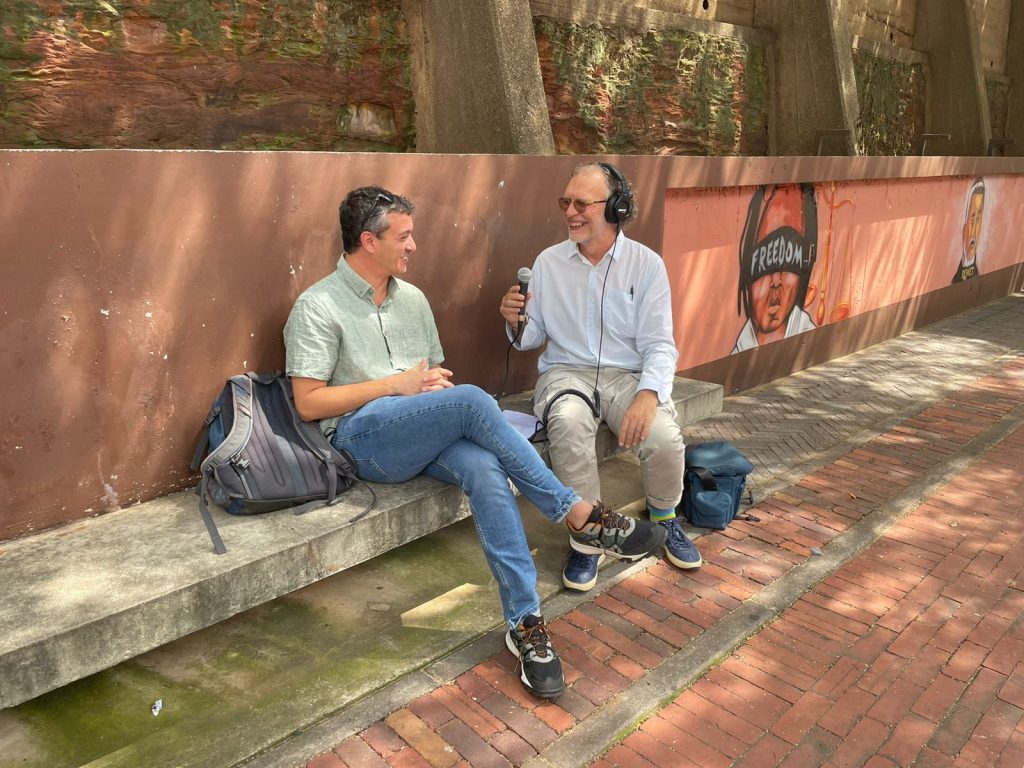 Listen to the full podcast here.
South Africa's Minister of International Relations, Naledi Pandor, has expressed support for Amnesty International's report and noted its importance. 
The Amnesty team met with Minister Pandor in February in Cape Town to handover a hard copy of the report and discuss South Africa's role in ensuring that the international community acknowledge the violations happening in Israel, Palestine, and the Occupied Territories.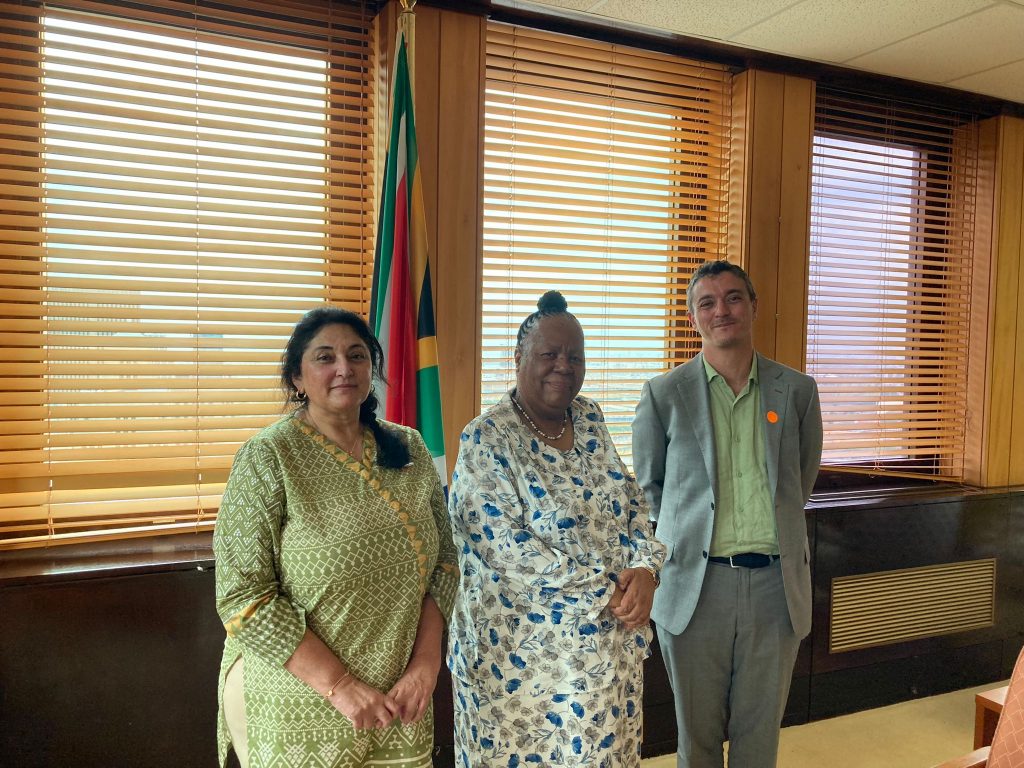 On 18 February 2022, we met with Dr Mamphela Ramphele, who represented the family of the late Archbishop Desmond Tutu, and representatives from the Desmond and Leah Tutu Foundation. We handed over the hard copy of the report and passed on condolences from Palestinians. Desmond Tutu was a strong, outspoken advocate against the crimes committed against the Palestinian people.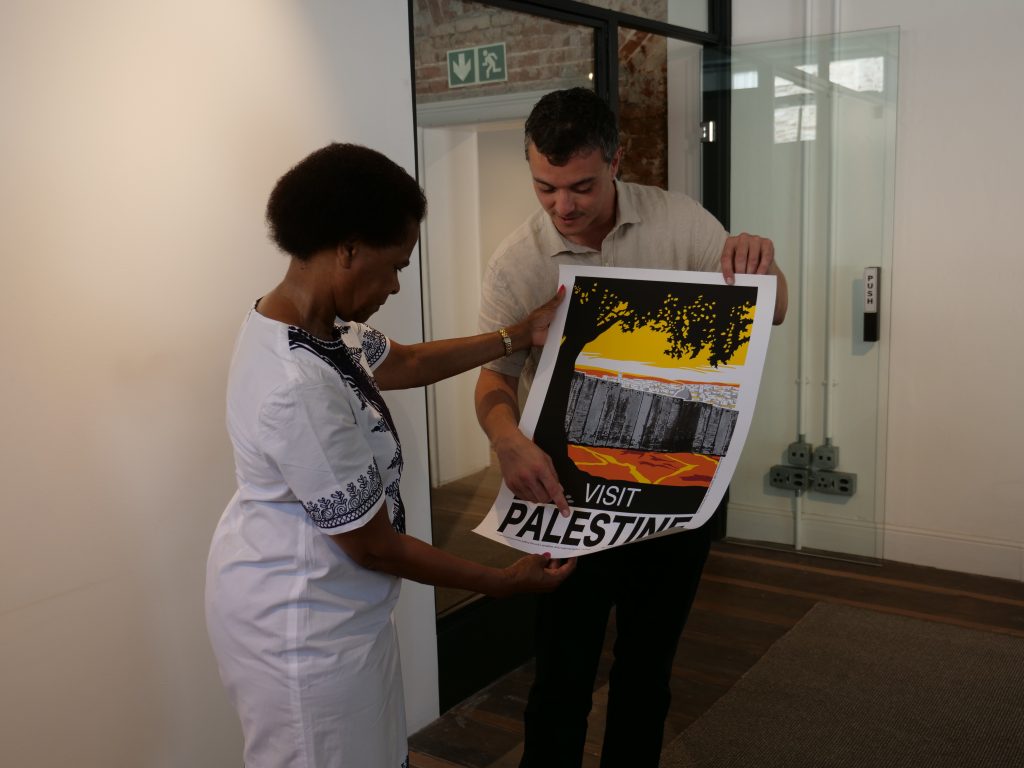 Shenilla Mohamed and Saleh Hijazi also addressed a Palestinian Soldiarity Coalition meeting in Cape Town where they presented the findings of Amnesty's report. Watch the full event here.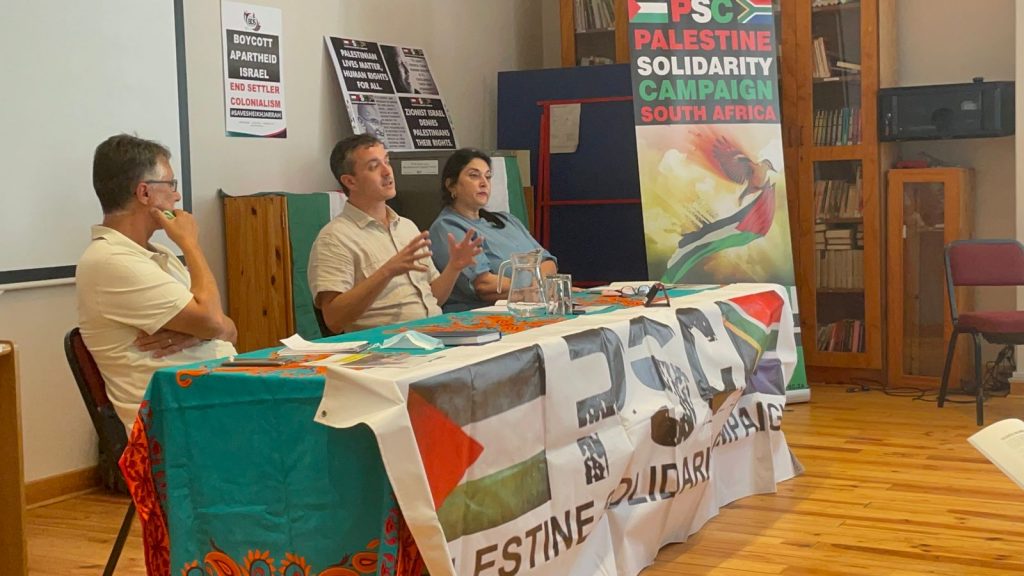 The report was also well received by the Palestine Solidarity Campaign and the Boycott, Divestment, Sanctions Coalition in South Africa. Hijazi addressed the groups on 19 February 2022 and the event was also attended by members of the public who wanted to know about Amnesty's work and the situation in Palestine. 
Amnesty International also met with Palestinian Ambassador to South Africa, Hanan Jarrar Qarout, who believes Amnesty's report can be used to make the plight of the Palestinian people visible and that South Africa can help Palestine launch a global campaign to make the world notice what is happening.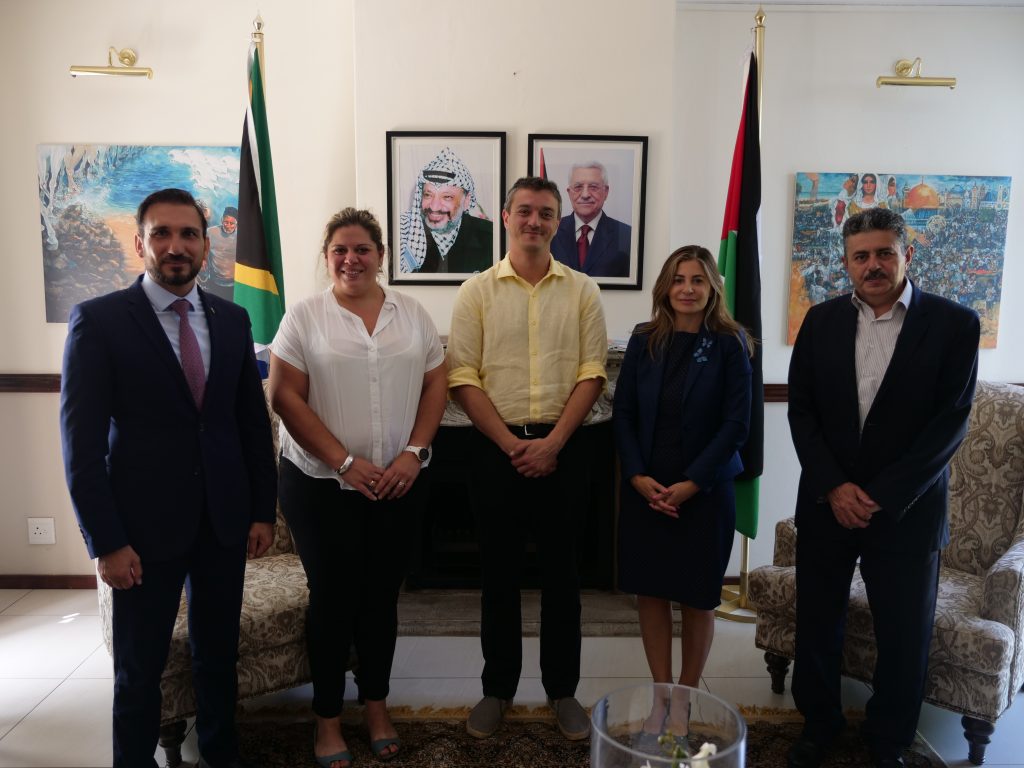 Saleh Hijazi and Shenilla Mohamed also addressed a Palestinian Solidarity Alliance event in Lenasia, Johannesburg on 23 February, presenting Amnesty's report findings. 
On 24 February 2022, the Afro-Middle East Centre, in partnership with Amnesty International South Africa, hosted a South African launch of the report at the University of Pretoria. Hijazi presented the report. He was then part of a panel discussion with Zane Dangor, Special Advisor to the International Relations Minister Naledi Pandor, and former South African intelligence minister and apartheid activist Ronnie Kasrils. The event was attended by a number of ambassadors, diplomats, academics, activists and students.
Watch a recording of the event here. 
Due to all the meetings we had, Hijazi was invited to take part in the Pan-African Anti-Apartheid Conference in Dakar, Senegal. Twenty-one countries from Africa met to denounce and resist the Apartheid regime imposed by Israel on Palestine and demand regional bodies to reject Israel's request to join the African Union as an observer. 
Watch the full event here.
While in South Africa in March, Amnesty International Secretary General, Agnès Callamard, met with stakeholders in the Palestinian solidarity movement in South Africa, academics and government officials to discuss Amnesty's work and the way forward.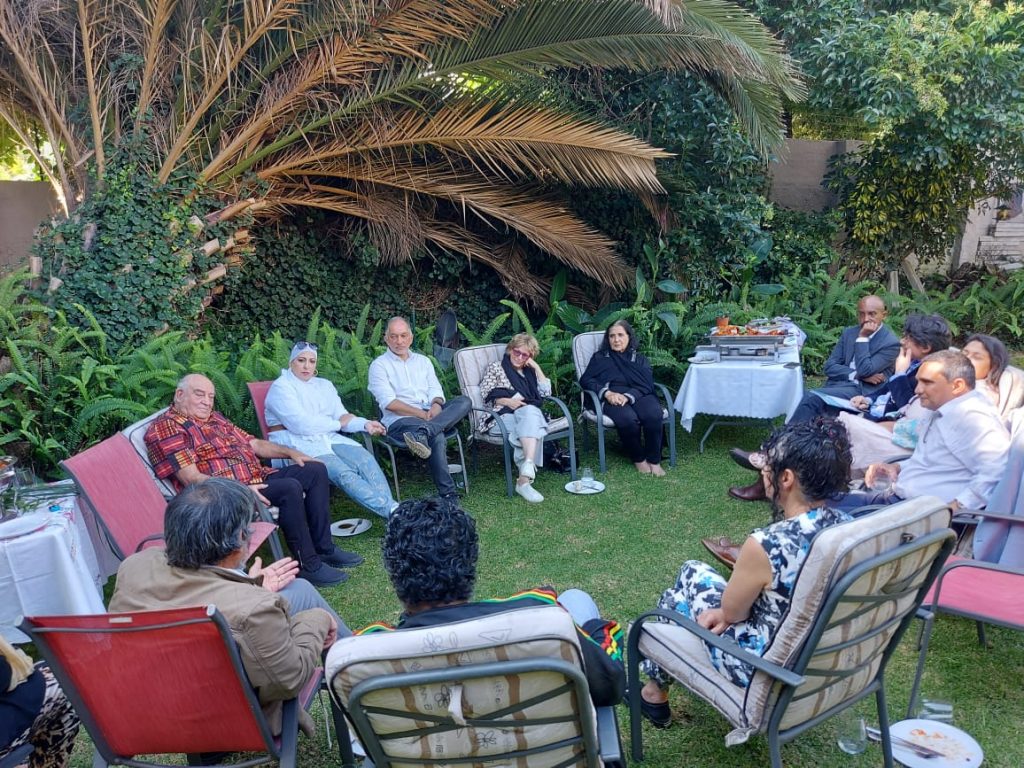 TELL ISRAEL: DEMOLISH APARTHEID, NOT PALESTINIAN HOMES
Take action against demolitions and forced evictions now by writing to Israeli Prime Minister Naftali Bennett. Call on him to immediately cancel all orders for forced evictions and home demolitions against Palestinians in Israel/OPT and to end the forced displacement of Palestinians.
In the first quarter of 2022, Amnesty International South Africa carried out 67 interviews, on various topics such as corruption and state capture, education and pit toilets, migrants and xenophobia, vaccine inequality, service delivery and the state of the nation, gender-based violence, mining affected communities, the Palestine report and Amnesty's Annual Report.
On 21 February 2022, Shenilla Mohamed spoke to SAFM about the quarterly crime stats, which reveal a shocking concern for the right to life, including failure to protect people.
Listen to the interview here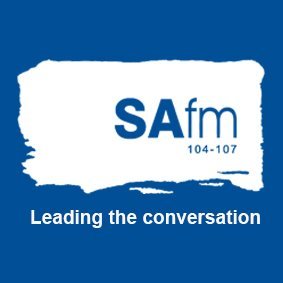 On 23 February 2022, Head of Amnesty International's Jerusalem Office, Saleh Hijazi spoke to SABC TV News about the release of our report Israeli's apartheid against Palestinians: Cruel system of dominations and crime against humanity.
Watch the interview here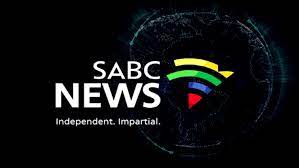 On 9 March 2022, Amnesty International South Africa Media and Communications Officer Genevieve Quintal spoke to ETV's Annika Larsen about xenophobia in South Africa and the organisation's plea for the protection of migrants.
Watch the interview here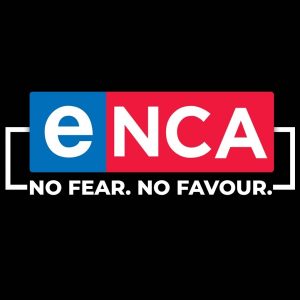 On 29 March 2022, Shenilla Mohamed spoke to Newzroom Afrika about Amnesty International's Annual Report – The State of the World's Human Rights.
Watch the interview here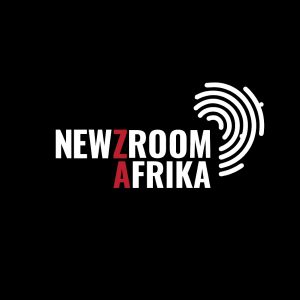 Amnesty International South Africa (AISA) hosted its first in-person activist training with the objective of bringing activists together to plan youth-led campaigning activities for 2022.
The training was a blended event where activists joined both virtually and in-person. The training was also aimed at ensuring that all activists understand AISA's way of working and are well equipped to take action in their relevant constituencies.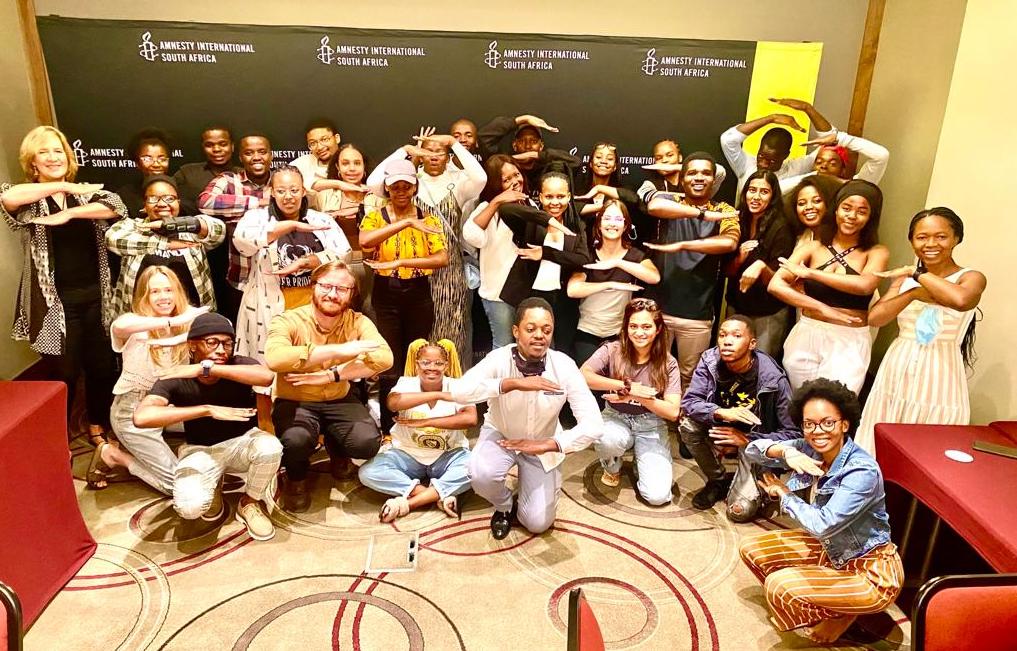 AI Univeristy of Pretoria – Recruitment Drive
The Amnesty International University of Pretoria hosted a recruitment drive in February with the aim of recruiting 200-500 supporters.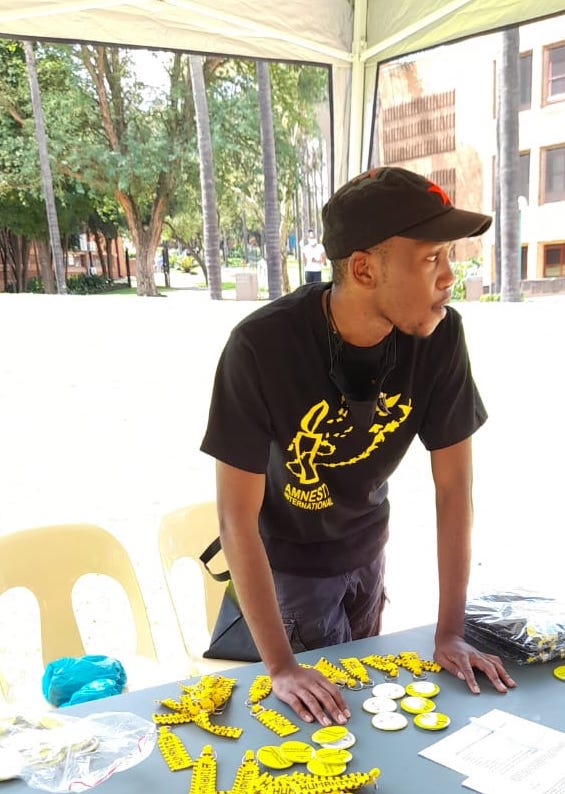 AI Vaal – Ringa Ndoda
AI Vaal continued its #InterruptGBV work with the Ringa Ndoda dialogues aimed at engaging community members on gender-based violence in the community and calling for behavioral change.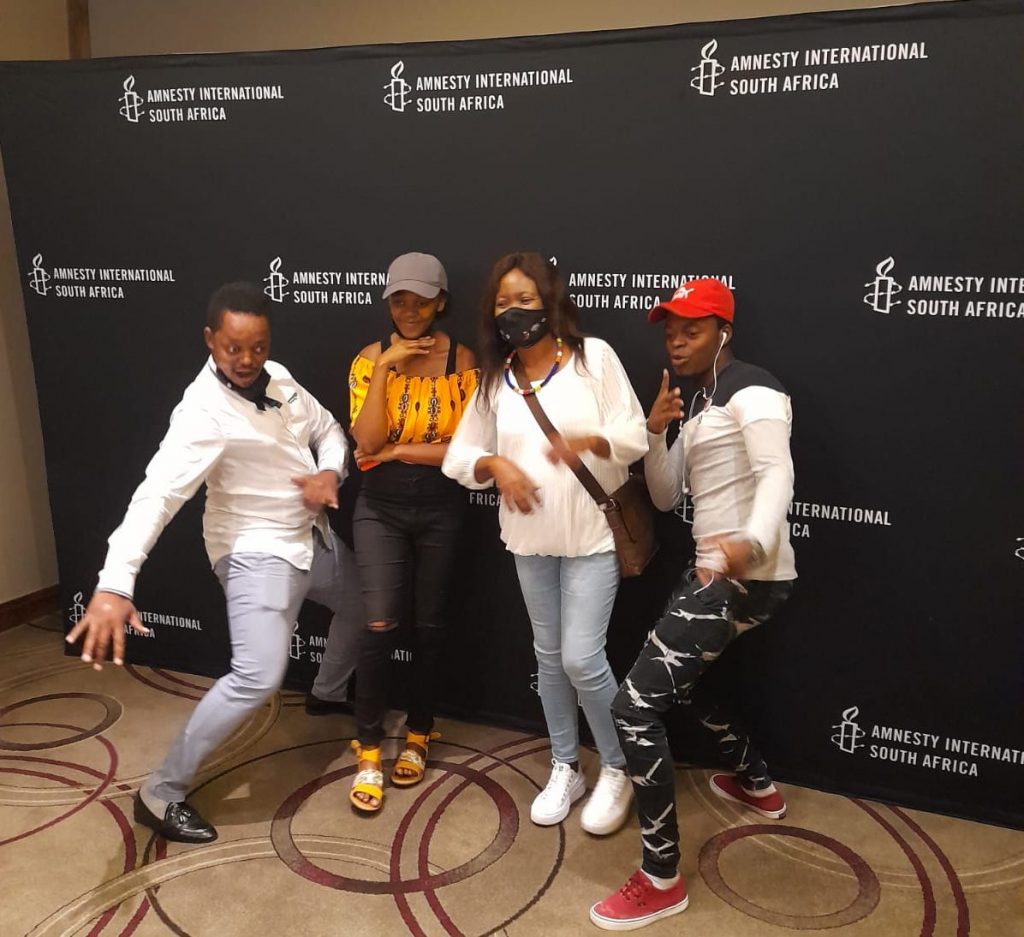 AI Stellenbosch – March for Ukraine
AI Stellenbosch in collaboration with other student organisations on campus held a peaceful anti-war demonstration in solidarity with Ukraine calling on Russia to withdraw armed forces from the siege of Kyiv. More information can be found here.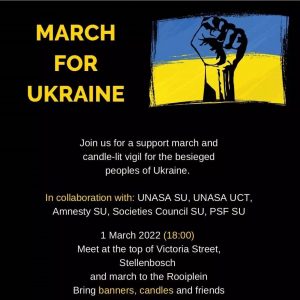 AI University of Cape Town – Opening Event
The AI UCT chapter hosted its first in-person opening event since the Covid-19 lockdown in 2020. The event had live performers and the chapter managed to raise awareness of the chapter on campus and introduce members to the year plans.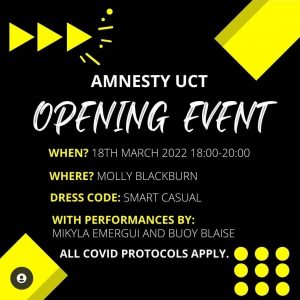 AI Wits – Reality of Human Rights Today Instagram Live
The AI Wits chapter held a recruitment drive as well as its first interactive Instagram livestream in March to discuss the realities of human rights in South Africa in commemoration of Human Rights month and the Sharpeville massacre . The recording can be found here.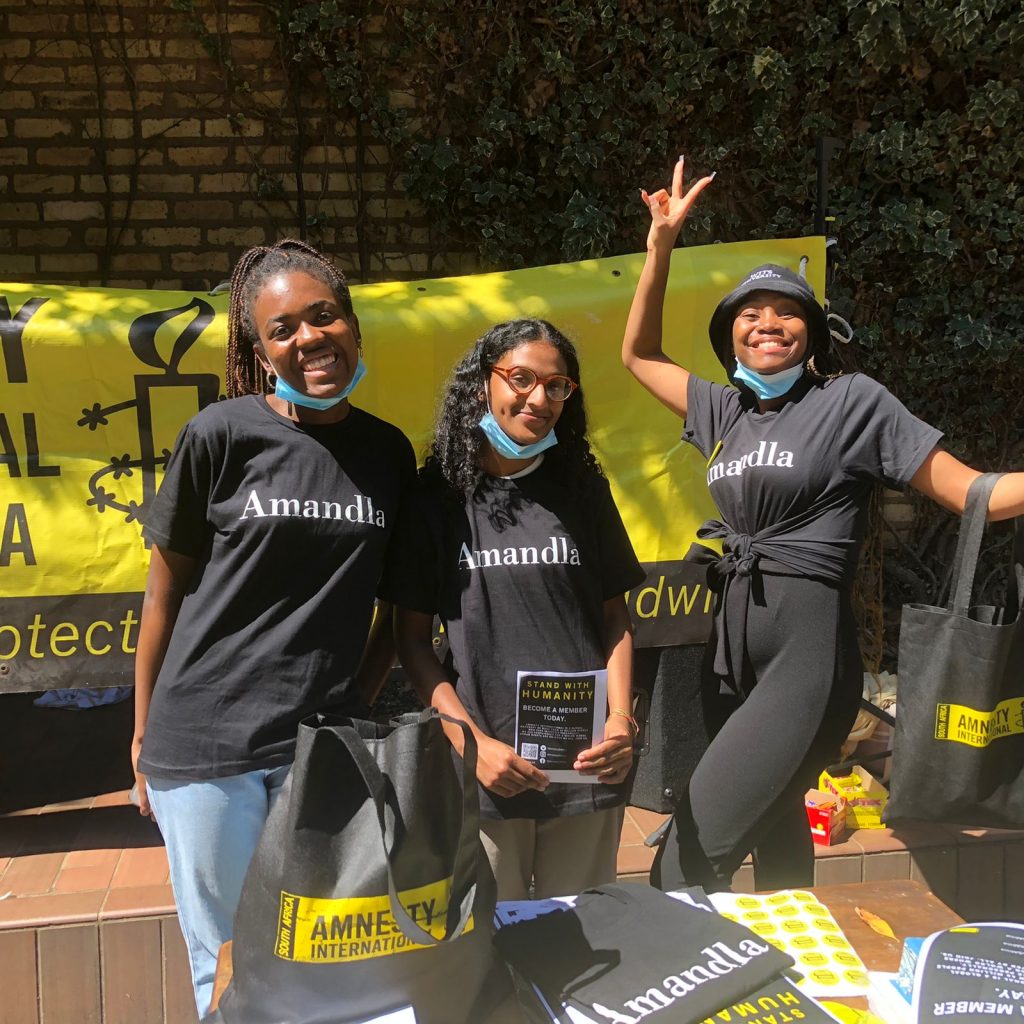 Amnesty International South Africa participated in the annual human rights festival hosted by Constitution Hill in Braamfontein, Johannesburg.
This was the first time since the Covid-19 pandemic took hold that the festival was held in person. The festival programme encouraged attendees to interrogate their own beliefs and values and examine their role in creating a "just" society for all that actively foregrounds economic, political, and social human rights.
AISA had a stall at the festival to promote its campaigns, and volunteers and members pitched in to help get traction. During the festival we managed to collect a total of 987 actions for the education, gender-based violence and Palestine petitions.
Ukraine: Activists across the globe call on Russia to end its all-out assault on human rights
On 24 March, Amnesty International staged a Global Day of Action to demand that Russia end its invasion of Ukraine — an illegal act of aggression that continues to wreak untold destruction at all levels.
Activists in countries across the world took part in actions and events to mark one month since the start of an invasion that has had myriad devastating consequences for the people of Ukraine, for freedom of expression in Russia, and on the international human rights framework.
Read more about it here
Covid-19: Pharmaceutical Companies' Failure on Equal Vaccine Access Contributed to Human Rights Catastrophe in 2021
Despite urgent calls to ensure the equal distribution of Covid-19 vaccines in 2021, pharmaceutical companies tragically failed to rise to the challenge of a once-in-a-century global health and human rights crisis. Instead, they monopolized technology, blocked and lobbied against the sharing of intellectual property, charged high prices for vaccines and prioritized supplies to wealthy countries, said Amnesty International on 14 February in a new assessment of the leading Covid-19 vaccine developers.
Read about it here
Afghanistan: Global petition calls on international community to stop the Taliban's suppression of women's and girls' rights 
More than 80,000 global supporters and activists have signed a petition calling on the international community tourgently stand up for women's rights in Afghanistan and hold the Taliban accountable for their unrelenting suppression of women and girls' rights, Amnesty International said today on International Women's Day.  
The petition, which calls for states to prioritize, monitor and support women's and girl's rights in Afghanistan, has been delivered to governments across the globe. 
Read about it here
China: Lawyer Yu Wensheng must be granted true freedom after unjust imprisonment
The Chinese human rights lawyer Yu Wensheng must not be subjected to intimidation or surveillance after enduring years of injustice and mistreatment in prison, Amnesty International said ahead of his scheduled release in March 2022.
Yu's four-year sentence for "subverting state power" is due to end on Tuesday 1 March, but the Chinese government has a record of targeting human rights defenders even after their release from prison.
Read more about this here.
STOP THE AGGRESSION AND PROTECT CIVILIANS IN UKRAINE
Right now, people in Ukraine are facing a catastrophic human rights crisis. People are dying, including children, and many thousands of lives are at risk. Take action to demand that the Russian authorities stop this act of aggression and protect civilians now.
BECOME A VOTING MEMBER TODAY AND HELP STEER AMNESTY INTERNATIONAL SOUTH AFRICA'S FUTURE.
Ready to stand up and defend justice, freedom and equality for all? Believe in people power? Eager to use your passion for human rights to help shape our movement?
Our members make change possible. They're the people we call on whenever and wherever human rights are under attack. Their actions, big and small, put pressure on governments, institutions and decision-makers to do the right thing.
JOIN THE AMNESTY MOVEMENT
HELP US BRING LIGHT TO INJUSTICES AND PROTECT HUMAN RIGHTS TODAY.